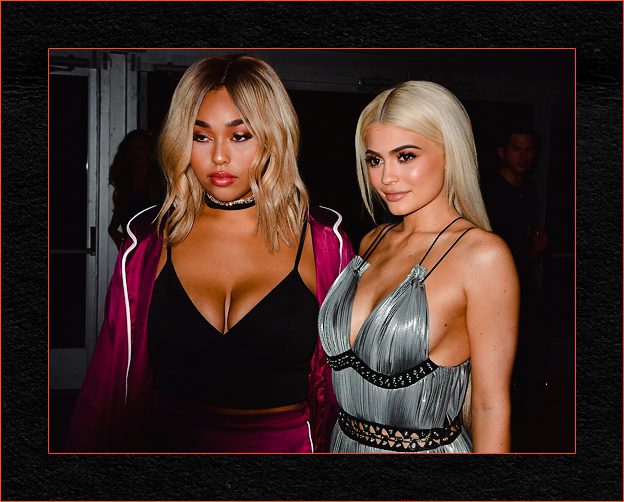 Kylie Jenner and Jordyn Woods Spotted Together
In an exciting turn of events, it seems that Kylie Jenner and Jordyn Woods might be ready to bury the hatchet and move forward from their turbulent past. The famous Kardashian star and her former best friend, both 25 years old, were recently captured leaving a trendy Los Angeles restaurant together on Saturday night, as revealed by exclusive photographs obtained by The Daily Mail.
This unexpected reunion comes four years after their highly publicized falling-out, which took place in February 2019. The rupture in their once-unbreakable bond occurred when news broke that Woods allegedly had a fling with Tristan Thompson, the boyfriend of Kylie's sister, Khloé Kardashian. The fallout from this revelation left Kylie in a state of shock and disgust, but she opted not to rush into any harsh decisions regarding her friendship with Jordyn, according to a source quoted by PEOPLE in 2019. It was a difficult time for Kylie, who had shared an intimate living arrangement with the young entrepreneur behind Kylie Cosmetics before her alleged involvement with Thompson.
"For a long time, Kylie was uncertain about the future of their friendship. Cutting Jordyn out of her life was a challenging decision for Kylie," the source explained. "At first, Kylie was devastated. Jordyn had been her confidant for so long, especially during the period when Kylie kept her pregnancy hidden from the world. Jordyn was practically by her side every day."
A month after reports of the alleged infidelity between Woods and Thompson surfaced, Jordyn bravely opened up about the situation in a tell-all interview. She claimed that Thompson, who was 32 years old at the time, had kissed her during an afterparty at his residence on February 17 of that year. While Woods adamantly denied engaging in any sexual activities with him, she admitted that she had failed to disclose the full extent of the incident to Kardashian and Jenner, despite informing them that she had been at Thompson's house.
In the weeks following the scandal, Jenner and Woods were spotted "working on rebuilding their friendship," according to a source close to the situation cited by PEOPLE at the time. "Kylie has had a very difficult time moving on from their friendship."
As March 2019 rolled in, another insider revealed, "Kylie still maintains occasional contact with Jordyn, but they will never be as close as they once were. Kylie has moved on and appears to be genuinely happy. It just didn't make sense for Jordyn to have a lingering presence in Kylie's life."