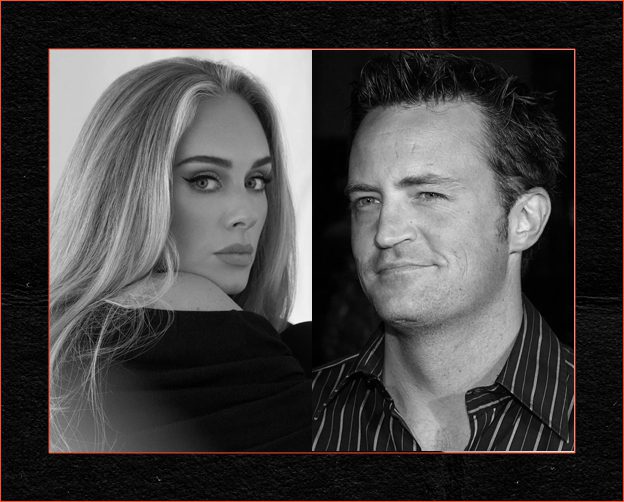 Adele Pays Heartfelt Tribute to Matthew Perry During Vegas Concert
During her Las Vegas residency concert, Adele paid a touching tribute to the late actor Matthew Perry, whose recent passing left fans mourning his loss. Adele, the Grammy-winning artist, dedicated her soulful rendition of "When We Were Young" to Matthew, honoring the impact he unknowingly had on her life.
Although Adele never had the chance to meet Matthew in person, she revealed to her audience that he, along with his iconic Friends character Chandler Bing, played a significant role in her cherished childhood memories. "One of my friends, Andrew, when I was 12 did the best Chandler impression," Adele shared with the crowd, recalling how the character brought laughter into her life during tough times. "And I'll remember that character for the rest of my life," she added, her voice filled with emotion.
Matthew Perry unknowingly played a special role in Adele's life. She shares the impact his #Friends character had on her childhood: https://t.co/lq98aScQEV pic.twitter.com/kDkMadRwDZ

— E! News (@enews) October 31, 2023
Adele also acknowledged Matthew's bravery in openly discussing his struggles with addiction and sobriety, as detailed in his memoir, "Friends, Lovers, and the Big Terrible Thing." She expressed admiration for his courage, stating, "He was so open with his struggles with addiction and sobriety, which I think is incredibly, incredibly brave." With genuine affection, she highlighted the positive impact he had on her and countless others. "I just wanna say how much I love what he did for us, especially what he did for me. One of the best comedians…and hopefully now he can rest in peace," Adele shared, her words resonating with the audience.
Tragically, the beloved actor passed away at the age of 54 due to an apparent drowning at his Southern California home, as confirmed by his representative and law enforcement sources on October 28. In the wake of his passing, Matthew's family expressed their heartbreak and gratitude for the outpouring of love from his fans. In a statement to People, they shared their appreciation for the immense joy Matthew brought to the world, both as an actor and a friend.
Adele's heartfelt tribute not only honored Matthew Perry's memory but also highlighted the profound impact he had on her life and the lives of those who admired his talent and resilience.