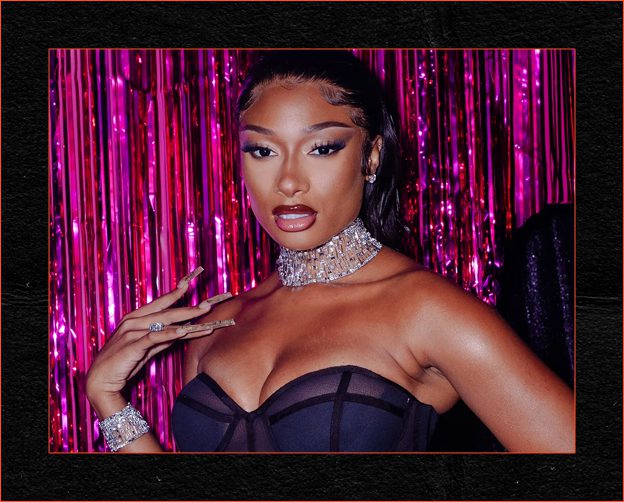 Megan Thee Stallion Unveils "Cobra" – A Sneak Peek into Her Independent Journey
Megan Thee Stallion, the Grammy-winning rapper known for her fierce attitude and empowering lyrics, is gearing up for a groundbreaking new era in her career. Following the recent settlement of her legal battle with former record label 1501 Certified Entertainment, Megan announced her upcoming single, "Cobra," set to drop on November 3.
The news sent waves across social media as Megan, whose real name is Megan Pete, shared a tantalizing glimpse of her artistic evolution. In an Instagram post, she unveiled the single's artwork, featuring a captivating image of herself, soaked and nearly nude, against the backdrop of a mysterious forest or jungle. With the caption "🐍🐍 COBRA NOVEMBER 3RD 🐍 PRE-SAVE NOW!" Megan teased fans with anticipation.
"Cobra" marks a significant milestone for Megan, being the first single released under her independent music and entertainment entity, Hot Girl Productions. This track also signifies her return to the music scene after the release of "Traumazine" in August 2022, showcasing her resilience and determination.
To fuel the excitement, Megan shared a sneak peek of her upcoming music video on Instagram with the caption, "ACT ONE 🐍." The teaser video, centered around her lips, metaphorically emphasized shedding the past, akin to a snake shedding its skin. The clip then transitioned to reveal Megan's intense gaze with snake-like eyes, a symbolic representation of her transformation. The teaser concluded with a glimpse into the creative minds behind the project: "A story by Megan Thee Stallion" and "Directed by Douglas Bernardt."
This announcement comes on the heels of the resolution of Megan's legal dispute with 1501 Certified Entertainment. The rapper and the label reached a confidential settlement after a more than three-year legal battle, marking a new chapter in her career. Megan expressed her excitement about embracing her independence, stating, "I'm so excited to be doing something for the first time independent, since it was just me and my mama."