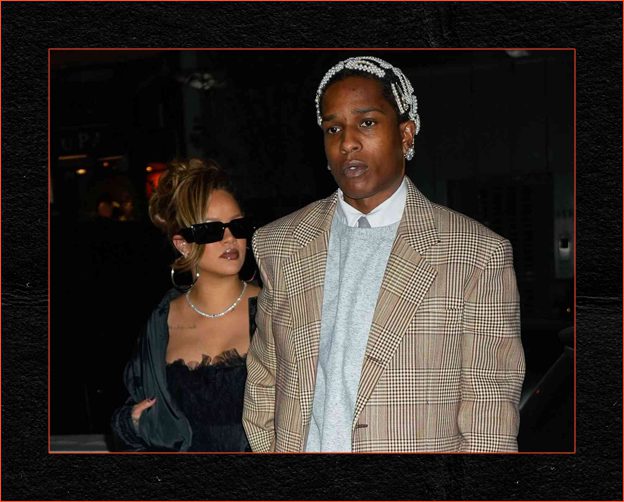 Rihanna and A$AP Rocky's Epic Dance-Off Goes Viral
Rihanna and A$AP Rocky are undeniably one of the most captivating couples in the music industry, and their recent dance battle at a New York City nightclub has taken the internet by storm, adding another layer of allure to their relationship. The lively event, which took place to celebrate Rocky's 35th birthday, turned into a dance extravaganza that left social media buzzing.
rihanna & asap having a dance off to nicki minaj songs is all i needed to see today😭 pic.twitter.com/0fVNQxoJ8o

— ☻ (@insideonika) October 8, 2023
In the viral clips shared on X (formerly Twitter), the birthday boy and his friends showcased their moves on the dance floor, grooving to the rhythm of Waka Flocka Flame's "Round of Applause." The atmosphere was electric, with the dance floor adorned with dollar bills, creating a perfect setting for the festivities. Rocky, also known as Rakim Athelaston Mayers, playfully gestured toward Rihanna, who effortlessly twerked to the beat, drawing cheers and applause from fellow partygoers. The billionaire mother of two showcased her dance prowess, proving once again why she's a force to be reckoned with.
Adding to the excitement, Rocky and his crew treated everyone to a charming semi-synchronized routine, reminiscent of scenes from the iconic dance film "You Got Served." The couple's infectious energy and chemistry lit up the club, creating a memorable moment that fans won't soon forget.
Rihanna and A$AP Rocky having a dance battle to 'Throw Sum Mo' by Nicki Minaj is the cutest thing you'll see today 🥹 pic.twitter.com/6wK3kvSXfF

— Stats of Minaj (@statsofminaj) October 8, 2023
Social media users on X couldn't contain their excitement, with the footage of Rihanna and Rocky's dance-off quickly going viral. The couple's dance-off became a trending topic, capturing the hearts of fans worldwide.
This joyous occasion comes on the heels of Rihanna and Rocky becoming parents for the second time, welcoming their son Riot in August, following the birth of their first child, RZA, in May 2022. As they bask in the bliss of parenthood, their dance-off served as a testament to their enduring love and vibrant personalities.
Amidst the celebration, the couple found themselves in the spotlight for another reason, as Rihanna's ex, Drake, seemingly took jabs at her in his new album "For All the Dogs." Fans dissected lyrics from tracks like "Fear of Heights" and "Virginia Beach," interpreting them as references to their past relationship. Despite the drama, Rihanna and Rocky's infectious joy and love prevailed, proving that they are unstoppable both on and off the dance floor.