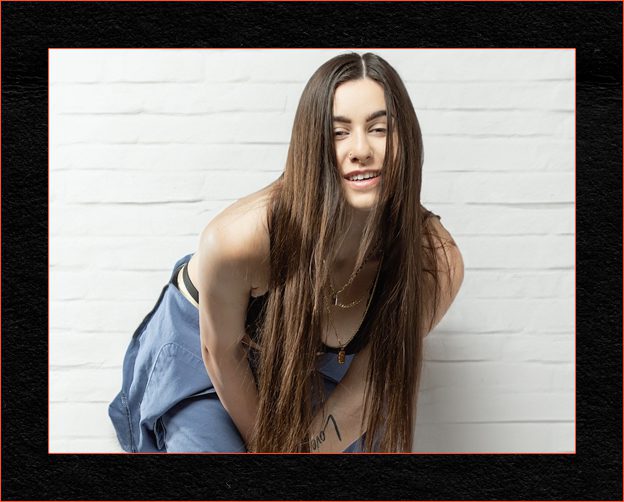 An In-Depth Interview With DYLI Unraveling Her New Single: "backseat, Pt. 2" 
Promising singer, songwriter, and rapper, DYLI discusses her newly released single "backseat, Pt. 2" and the story behind it. The song is a continuation of her 2020 track "backseat," which explores the complexities of transitioning from friends to lovers. The artist reveals that both are very personal to her and were written like entries in a diary. As for the cover art, featuring a girl sitting on a cloud with a samurai sword, she says she was inspired by her love for Tarantino's movie, Kill Bill.
DYLI also mentions upcoming singles within the R&B/hip-pop range and her openness to experimenting with different styles. Although she currently has no collaborations on the horizon, the singer expresses a desire to work with artists like Latto to learn from their experiences. 
As an emerging talent, she grapples with balancing authenticity with the pressure to conform to societal expectations. While DYLI doesn't feel a responsibility to address specific topics in her music yet, she hopes to use her platform to spread awareness and communicate important messages to a broader audience in the future.
Discover more about DYLI's latest release in the section below.
Congratulations on the highly-anticipated release of "backseat, Pt. 2"! We're eager to learn more about this single. Could you share some insights into the track and the message it carries? How do you see people embracing and interpreting its essence?
Thank you so much! I wrote "backseat, Pt. 2" as the second part of my single that I released in 2020 titled "backseat." Both songs carry a very different meaning. "backseat" is about navigating the feelings of turning friends into lovers. Do you really want it? Would you be okay without it? etc. "backseat, Pt. 2" holds a very different weight. This is the second part of the story that explains the relationship that sprouts from the friendship that you were questioning before. My favorite part about the two songs is the fact that depending on the order you listen to them, you get a very different story. I think it makes them quite versatile.
In 2020, you released "backseat," delving into the complexities of transitioning from friends to lovers. Now, with "backseat, Pt. 2," you continue this compelling story. Did you write both songs at the same time? Was the idea for a follow-up planned three years ago? We're curious to know how the process evolved for this sequel.
I actually did not write the songs at the same time, and it was not planned for there to be two parts. Both songs are very personal to me, because they describe my situation. I try to write all my songs in a way that people can relate it to their own story. It's cool for me, because these two songs, especially, were like writing in a diary. I don't need to go into much detail on how it relates personally, because the lyrics describe it all for me. They hold a special place in my heart because of this.
Let's look into the fascinating cover art. The imagery of a girl sitting on a cloud while wielding a samurai sword is undeniably captivating. Can you share about the creative concept that inspired this artwork and how it complements the song?
I really love this question, because the artwork for a song is really important to me. I wanted to keep the pink theme, so it correlates to "backseat." So part of the artwork is that I am a huge fan of the movie Kill Bill, so because of that, my musical "alter ego" is "Kill Dyl." I am also a huge anime fan, so I wanted to incorporate both of those aspects of my life into my brand and cover art. I worked with a graphic designer (@swifty_creative) to bring my ideas to life and he did an amazing job. I will definitely be incorporating more of this aesthetic into my brand.
You mentioned some new singles are on the way. Can you give us a glimpse into the genres we can expect? Will you stick primarily to hip-hop and R&B, or should we look forward to some surprising forays into other styles?
I've been cooking up a lot of new music recently, but it's all definitely within the R&B/hip-pop range. I feel like in the past year I've grown so much as an artist, so I'm looking forward to releasing my new work. For now, I've really found my lane in the hip-pop/R&B genres, but I'm always open to experimenting with different music styles so you never know.
Looking ahead, are there any specific artists you are excited about working with to bring a fresh perspective to your sound? How do you believe these potential collaborations could enhance your music?
I have no collaborations at the moment, but there are so many artists that I'd love to work with in the future. One of my bigger goals as far as collaborating with other artists is definitely working with Latto. As far as her work ethic and her story involving her history in the music industry, I feel like I could learn so much from her. Not to mention the fact that I'm a fan of her work.
As an emerging artist, how do you balance staying true to your vision while also appealing to a wider audience in the highly competitive industry? Have you experienced any pressure to adopt an approach that deviates from your true self?
Being in the position that I am as an artist, this is for sure a self-made conflict that comes up a lot. Personally, there are times that I find it really difficult to stay true to myself, because even though it's an extremely important virtue in my life, there are times I get scared to do so because of how judgmental the public eye can get. Because of that, I've definitely felt the pressure to become or act in a way that our society has already accepted.
Do you perceive a sense of responsibility to address specific topics in your songs and use your platform to make a positive impact on society? How do you plan leveraging the power of your influence to communicate important messages to a broader audience?
As far as my music, no. But, I hope that one day, I have a platform big enough to provide me with a voice that holds weight around. For example, I want to be able to spread awareness to my audience about topics that mean something to me. In my opinion, I feel like it's important for any artist to use their platform for positivity, and to provide a voice for people who won't necessarily be heard or paid good attention to.
Listen to "backseat, Pt. 2" below: