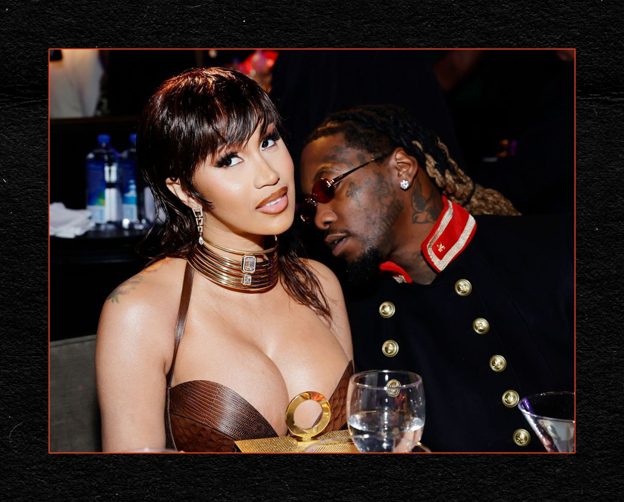 Cardi B and Offset Reunite in Paris Following Cheating Rumors
Cardi B and Offset have reemerged as a dynamic force, captivating the public with their undeniable chemistry and fashion-forward presence. The power couple made their first public appearance together in Paris, marking a stunning comeback following the recent cheating scandal that sent shockwaves through the entertainment industry.
In a display of confidence, Cardi B and Offset were spotted hand in hand, radiating style as they exited a Balenciaga store. Photographers captured the moment, immortalizing their connection and emphasizing their unbreakable bond. The following day, the couple continued to captivate onlookers during Haute Couture Fashion Week, striking poses and embracing one another outside the Balenciaga show. Clad in coordinating black ensembles, Cardi B and Offset left spectators in awe of their fashion choices and unwavering unity.
Cardi B, aged 30, and Offset, aged 31, exchanged vows in 2017 and have since embarked on a beautiful journey together. Their union has been blessed with two children: daughter Kulture, who will be celebrating her fifth birthday this July, and son Wave, who is approaching the age of two.
The couple's relationship encountered a rough patch in September 2020 when Cardi B filed for divorce amidst rumors of Offset's infidelity. However, their resilient nature has consistently drawn them back to each other's side, rekindling their love and commitment.
While past incidents have seen rumors of Offset's unfaithfulness, such as the infamous videos in 2018 that depicted compromising situations with other women, a surprising twist emerged this time. Offset took to Instagram on June 26 with a since-deleted post, accusing Cardi B of cheating—an unexpected development that added further complexity to their narrative.
Their high-profile reunion in Paris serves as a testament to the enduring strength of their relationship. Cardi B and Offset's ability to navigate challenging circumstances and reestablish their bond in the public eye has left admirers in awe. The couple's fashion-forward appearance during their outing in the fashion capital solidifies their status as a dynamic duo, captivating both the music and fashion industries.