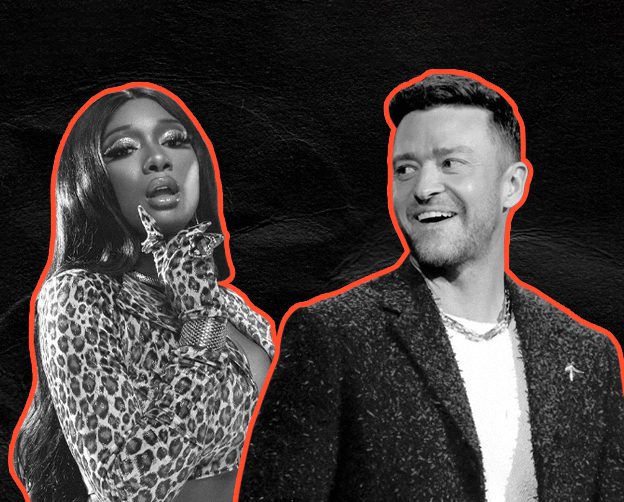 Megan Thee Stallion and Justin Timberlake Respond Perfectly to Viral VMAs "Fight" Video
The MTV VMAs created quite a buzz, but there was an unexpected twist behind the scenes that caught the internet's attention. Footage of Megan Thee Stallion and Justin Timberlake seemingly engaged in an argument went viral on X (formerly Twitter), leaving fans speculating about the nature of their heated exchange.
However, sources close to the incident have revealed to Variety that the backstage drama was anything but dramatic. According to an eyewitness, their interaction was playful and endearing, far from the altercation that social media seemed to depict.
Wtf did he say to her??? #VMAs pic.twitter.com/xYsQNnPrza

— jaⓂ️es (@BartierJames) September 13, 2023
In fact, the source stated, "There was zero fight." Timberlake initiated the exchange by saying, "It's so nice to meet you," to which Megan responded, "No, no, this don't count, this don't count. We gotta meet proper." Their adorable banter left no room for any real tension, and it was a genuinely heartwarming moment.
After the show, both Megan and Timberlake responded to the viral buzz with the perfect touch of humor and camaraderie. Megan shared a TikTok video of the two of them talking and laughing, captioning it with her signature humor, "I just talk with my hands lol 💁🏽‍♀️ see ya next time @Justin Timberlake."
During the VMAs, Megan took the stage for a performance alongside Cardi B. On the red carpet, Cardi couldn't help but express her admiration for working with Megan, describing her as "just a beautiful person" and "amazing." Cardi emphasized that she's selective about the people she associates with, and Megan is undeniably one of those she holds in high regard.
Interestingly, Megan wasn't the only celebrity who found herself starstruck during the surprise MTV VMAs reunion of *NSYNC. Taylor Swift also had her fangirl moment when the iconic boy band made an appearance on stage.
*NSYNC had the honor of presenting Taylor Swift with the Best Pop Video award, and the pop sensation couldn't contain her excitement. She embraced each member of the group and even received a friendship bracelet from Lance Bass.
"I'm not doing well pivoting from this," Swift humorously confessed, gesturing toward *NSYNC before launching into her heartfelt acceptance speech.
Taylor Swift wins for Best Pop song at the #VMAs for Anti-Hero. pic.twitter.com/2SLHWhCDG5

— E! News (@enews) September 13, 2023