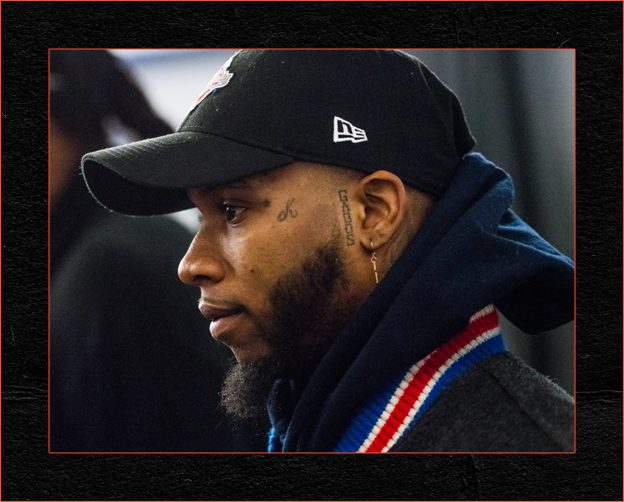 Tory Lanez Sentenced to 10 Years in Prison for Shooting Megan Thee Stallion
In a solemn turn of events, the Los Angeles Superior Court Judge David Herriford has delivered a significant verdict, sentencing Canadian artist Tory Lanez to 10 years in prison for the shooting of Megan Thee Stallion in July 2020. The courtroom bore witness to a somber exchange as Lanez shared his remorse and entreated the judge for a chance at probation or a reduced sentence.
Speaking from the heart, Lanez expressed his deep regret over the incident, acknowledging his wrongdoings and pleading for an opportunity to make amends. "If I could turn back the series of events that night and change them, I would," Lanez lamented. He further revealed the emotional bond he shares with Megan, stating, "The victim was my friend. The victim is someone I still care for to this day. Everything I did wrong that night, I take full responsibility for."
Judge Herriford, however, confronted the complexity of the situation, highlighting the challenge in reconciling Lanez's character as portrayed by friends and family with the individual who committed the act. The shooting incident left Megan Thee Stallion with serious injuries, necessitating surgery to remove bullet fragments from her foot. Judge Herriford emphasized the gravity of the situation, affirming, "Sometimes good people do bad things. Actions have consequences, and there are no winners in this case."
Although Megan Thee Stallion was not physically present during the sentencing, her poignant statement echoed within the courtroom. Addressing the aftermath of the incident, Megan conveyed her unyielding struggle for peace and recovery. "Since I was viciously shot by the defendant, I have not experienced a single day of peace," her statement read. "Slowly but surely, I'm healing and coming back, but I will never be the same."
Tory Lanez's prison sentence comes after his December conviction, where he was found guilty of assault with a semiautomatic firearm, having a loaded, unregistered firearm in a vehicle, and discharging a firearm with gross negligence. Lanez was credited with 10 months for time served, as he has been predominantly incarcerated since his conviction.
Lanez's attorney, Jose Baez, expressed disappointment at the outcome, asserting that comparable cases with severe outcomes received lighter sentences. Baez framed the verdict as emblematic of the challenges celebrities face within the legal system. Aiming for an appeal and the potential release of their client on bail, Baez's resolve remains unwavering.
As the legal chapter closes, the lasting impact of Megan Thee Stallion's bravery reverberates. Los Angeles County District Attorney George Gascón acknowledged the significance of her courage, noting, "I hope that [Megan Thee Stallion's] bravery gives hope to those who feel helpless."